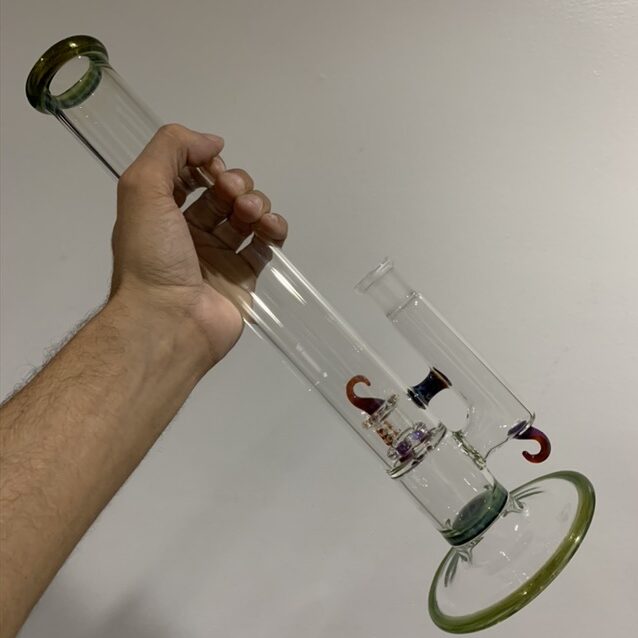 Lip Accent
1 of 6
Hook Color, both hooks will be the same color.
2 of 6
Base Color
3 of 6
Colored Grids
4 of 6
Booty Accent
5 of 6
Foot Accent
6 of 6
More info below.
IG: @Captainhookglassart NO DMS
email: Hookglass1@gmail.com *ONLY WAY TO REACH ME
Based out of NY, CHGA has been producing quality custom glass since 2017, over 1000 happy customers and many more to come. CH has a global presence, with work in Canada, Germany, Denmark, Turkey, Israel, New Zealand, Costa Rica, Puerto Rico, Australia, Spain, Italy, and more!
Discreetly packaged, and secure shipping.
CA/Intl If you must ship to a different location than your billing address, send me a picture of your ID to confirm that the address matches the billing address, and that it is in fact you ordering. Then I can send it elsewhere for you. You MUST use your billing address to checkout.
ORDER FAQ
Duplicate order error- Wait 30 mins to 1 hour and try again
Order failed / Declined- Must use billing address to checkout or it will decline.
Sometimes customers banks block transactions on online orders to protect your account if someone used your lost card or otherwise, and overall make sure its you ordering it. This can be solved by calling your bank or using the banking app and authorizing the transaction online by captain hook glass art. 
MORE FAQ BELOW
Terms:
Incycling: Inner Recycler, Means the water never fully exits the perk. If you dont have an incycler, the tube will bottom out. These typically feel very different than the original. I prefer most Incycling over originals.
Grids: The holes on the art type, they can be clear or colored. 180 means they go halfway around, and 360 all the way around.
Color Marble / Mib : A fingertip sized marble accented on the side of the tube.
Matching Hook/DC: Matching colors to the slide tube and dc. Hook color is the hook for all three matching, and likewise for bridge & base color all matching. If you want the slide to be different, just order it separately from the hooks page.
Bridge Color: The Bridge color of your choice for the support located between the 18mm and the main body of the tube.
Hook Color: The hook color of your choice for the hooks located on the outside & inside of the tube. Some tubes do not have hooks on the inside, and the hookless does not have any.
Bottom Art Type: The art style that is placed inside of the tube, prices are based off of difficulty.
Front Facing or Rear facing: Grids will face (front) towards the 18mm fitting, or grids will face away from the fitting (rear)
Double Bore: 44mm is standard, 50mm is double bore. All it does is change the diameter of the glass, and make the tube airier.
Drain Upgrade: makes a whole new style of tube where the art type continuously functions, and doesnt let the art type run out of water when functioning.
50mm Upgrade: Larger diameter tube, Makes tube airier.
Colored Grids: choosing a color will make your art type or style you selected have colored accents. Choosing None will be clear.
Colored Marble: marble color of your choice placed on the outside of the tube. For decoration.
Matching Hook: Shorthand for matching the base color and hook color of an 18mm 3 hole hook to the selected bridge and Hook color.
Matching Dry Catch: Shorthand for matching the base color and hook color of an 18mm 3 hole Dry Catch to the selected bridge and Hook color.
Base Accent: Color accent on the Base/Foot at the bottom, you pick the color. If none, then it will be clear.
Lip Accent: Color accent on the mouthpiece at the top, you pick the color. If none, then it will be clear.
Booty Accent: Only available on tubes with nets or nattys. Color accent below the perk, between the main body and the foot.
Splashguard: optional but not recommended. 3 Pinch, 6 pinch both do well to hold ice, Buoy or Raft Splash is not recommended for ice but to stop splash from water.
Spiral Upgrade: Makes the hook a spiral.
Overgridded: Extra Slit/Slits on the perk where available for more airflow.
Neck Style: Normal is just a standard tube, Bottle Neck is a 26mm Neck that not only makes stops some splash but makes the volume of the tube lower in turn making it easier to clear. Bent neck is very similar but is attached at the side with a large bend to stop the splash.
Fumed Foot: Applied Real Silver fumed onto the ENTIRE foot of the tube, blue, green, and yellows.
1.5 Perks: These are all placed above the single perks in order to give it just a little bit more natural diffusion yet not as much as a double. I highly reccomend this option. 3 Pinch is great, 6 and 9 pinch have increasing diffusion as it goes up. Important to note this is not a splashguard pinch its placed specifically to affect the function. Restriction 1.5 is just another variation of the 1.5 and works very well.
Hollowfoot: Makes the foot on the bottom hollow, holds much more water allowing for a longer session and a unique function thats not found in the normal foot.
Thick Foot: Normal foots are 4mm thick to match the tubes 44mm x 4mm german glass tubes. Thick Foots increase this and make fatter lips ranging upwards from approx 7mm+
Opal: Encased opal placed on tube, specify where or I will attach it where it looks nice to me.
Encalmo: Makes the hook have a band of color where the hook attaches to the base. Right between the Hook Color, and the Base color.
Hookless: Removes hooks for preference or accessibility reasons.
Reduction Band: Decorative Band around the middle of the glass with two rings and a small restriction.
Base Size for slides: Size of the slides main compartment.
Base Color for Slides: The color of the main compartment.
Peg Leg: A small marble on the side of the slide.
Beveled Lip: Makes the slide have a beveled lip, works best on small pack slides. Highly reccomended.
Thicc Upgrade on slides: Makes the slide have an extra thick base, makes a huge difference when in use, and if the color is transparent the optics on the glass are incredible.


Prices are in USD.
Further common Questions: FAQ
When did my tube ship?
-next available day if ready to ship, 4-14 business days M-F for customs
When will i get tracking?
-when it ships!
What size are the full size tubes?
-15-18″ Tall
– 18mm
– 4mm thick unless 50mm upgrade, which is 5mm.
What does 2NDS or display model mean?
it means it has scratches or a general defect, all aesthetic ones only.
Can you ask for a specific height?
-no
What will happen if you email for a status update?
-You will get a status update! Custom orders are 4-14 business days.
Can you send me a picture of the custom?
– No due to the volume of orders and solo work.
Can you send me a picture of X color?
– Try the color chart, or google.
I didn't get an email confirming my order?
-likely a mistake in typing, email me at hookglass1@gmail.com for assistance
What if it gets lost?
– Tracking allows you to watch it till it gets to the destination, packages have been up to 2 months late in the past during holiday months but they always show up.
How to purchase internationally?
-Prices in USD, site will convert your Currency to USD automatically after checkout, you pay in USD.
If you have trouble Email Me at Hookglass1@gmail.com
*** No Etransfer.
How is the art packaged?
-Discreetly, Plain brown box, with an abbreviation on return address.
When can I expect my order?
-4-14 business days for custom,
– Ready to ship will be shipped out next available shipping day.
– If you order during a SALE expect a slightly longer wait due to volume.
Clear glass is cheaper?
-Clear and color are the same price throughout the site for hook/bride/base colors